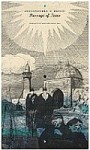 A returning ex-pat, an espionage mission, a mysterious Islamist counter-intelligence figure locked away in Djibouti's Devil's Islands, a palimpsest of letters written to Walter Benjamin appearing through the notes a scribe is taking from "The Master," a rageful twin brother who plans the death of his twin, devotion to the great African pianist and singer Abdulla Ibrahim. All these are woven up in a small, intriguing novel, Passage of Tears, by Abdourahman A. Waberi, in an excellent translation by David and Carol Ball. First published in French in 2009, the English version comes to us in a nice Seagull Books edition, in 2011.
In alternating chapters by the narrator, Djibril, and the scribe, Djamal, the setting and story unfold, at once two biographies — which may be one–, a situation report of the Horn of Africa, and an appreciation of Walter Benjamin who died decades before, an immigrant in flight, but who created a new kind of history, much admired by the narrators:
…a conception of history, which was not theoretical or arid in the least. It appealed to me [Djibril] because it seemed as sensitive to human beings as the stories my Grandpa Assod used to tell."
Djibril, having lived in Canada for many years has returned as an employee of one of the new private security firms to which nations are outsourcing their intelligence work.
Read all at AllInOneBoat.org
No Comments
No comments yet.
RSS feed for comments on this post.
Sorry, the comment form is closed at this time.