Project: Soldiers of Conscience
DVDs of Soldier's of Conscience are now available! After helping the producers with the fundraiser (below) the film is now able to be distributed both as DVDs and in public venues, including TV. See the link for more.
*
Ruth Group friends came together in December, 2007 to help film makers Gary Weimberg and Catherine Ryan raise funds to pay for final news-reel footage used in their powerful Soldiers of Conscience, a film about active duty soldiers who came to positions of conscientious objection to the war in Iraq.
This was the post, the night after the film, December 6, 2007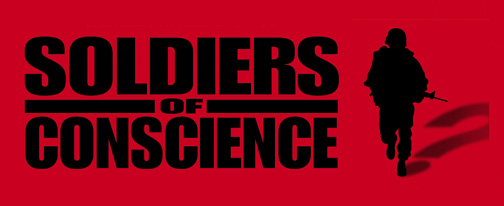 Well, we did it! Just under $10,000 raised for Soldiers of Conscience last night, rain and all! And the big contributions were matched by big emotions watching the film.
Gary Weimberg and Catherine Ryan, the film makers, followed the showing with lucid and engaging stories of making their documentary and of the men who were featured and how their lives have unfolded following their decisions to become Conscientious Objectors. The reactions of audiences who have seen the film have been wide ranging and moving, men standing in tears revealing their own struggles with conscience and war.
It was great to be with a good crowd in the warm and inviting new Cruising Club in Sausalito. Hope to see many of you at future events.
[You can still send checks made out The Film Arts Foundation to Ruth Group, P.O. Box 722 , Mill Valley, CA 94942]
Other posts about Soldiers of Conscience on the Ruth Group blog can be found by going to "Posts by Category" in the left column and finding Soldiers of Conscience. This will filter out all posts except those about the film.