We couldn't have been more shocked in Como, Italy a few days ago to see this photo, enormous and above the front page fold of La Stampa, one of Italy's  big dailies: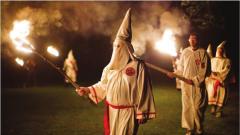 The article goes on to describe a resurgence of the Ku Klux Klan, using photos like this, taken in July, the Southern Poverty Law Center and quotes from KKK meetings.  Here is the original Italian, and here a [rough] Google translation
Don't know the bonafides of the reporter, or if the size or pace of change he is reporting has been verified elsewhere.  SPLC is the place to go to keep track.  Nevertheless, someone at La Stampa decided it was front page news for them.
No Comments
No comments yet.
RSS feed for comments on this post.
Fatal error
: Call to undefined function live_preview() in
/home/ruthgroup/ruthgroup.org/wp-content/themes/ruth/comments.php
on line
90