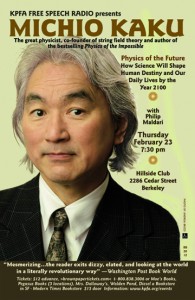 MICHIO KAKU
"Physics of the Future: How Science Will Shape Human Destiny and Our Daily Lives By the Year 2100″
Hosted by Philip Maldari
Thursday, February 23, 7:30 P.M.
First Congregational Church
2345 Channing Way, Berkeley
or: Pegasus Books (3 locations), Mrs. Dalloway's, Moe's Books,
Walden Pond, DIESEL, A Bookstore, in SF – Modern Times
"With his lucid and wry style, his knack for bringing the most ethereal ideas down to earth, and his willingness to indulge in a little scientifically informed futurology now and then, Michio Kaku has written one of the very best accounts of higher physics." 
- Wall Street Journal
In "Physics of the Future", Michio Kaku The New York Times bestselling author of "Physics of the Impossible"  gives us a stunning, provocative, and exhilarating vision of the coming century based on interviews with over three hundred of the world's top scientists, who are already inventing the future in their labs. The result is the most authoritative and scientifically accurate description of the revolutionary developments taking place in medicine, computers, artificial intelligence, nanotechnology, energy production, and astronautics.
"Mesmerizing, the reader exits dizzy, elated, and looking at the world in a literally revolutionary way."
- Washington Post Book World
Kaku also discusses emotional robots, molecular medicine in which scientists will be able to grow almost every organ of the body and cure genetic diseases, antimatter rockets, X-ray vision, and the ability to create new life forms. He considers the development of the world economy and addresses key questions: Who will be the winners and losers of the future? Which nations will prosper? Synthesizing a vast amount of information to construct an exciting look at the years leading up to 2100, "Physics of the Future" is a thrilling, wondrous ride through the next 100 years of astonishing scientific revolution.
Michio Kaku is a professor of physics at the CUNY Graduate Center, cofounder of string field theory, author of several widely acclaimed science books, and has a Science Channel show and two radio programs, including "Explorations".   
Philip Maldari, a veteran broadcast journalist on KPFA, is currently host of the "Sunday Show".
KPFA benefit
No Comments
No comments yet.
RSS feed for comments on this post.
Fatal error
: Call to undefined function live_preview() in
/home/ruthgroup/ruthgroup.org/wp-content/themes/ruth/comments.php
on line
90